Man's life used to be relatively simple: he was content to live in a modest dwelling fashioned out of whatever he could find in his surrounding context. He required a bigger house as he started to spawn and multiply.
The single-family unit then evolved into a community with additional requirements and a more complex lifestyle. Structures were erected, and motorized conveyance became available, necessitating the use of pulleys, cranes, and hoists to aid in their construction.
Hoists are used for a variety of things nowadays and come in a variety of shapes and sizes.
Hoist that is driven by electricity and can be wire rope or chain. A construction hoist, also known as a buck hoist, is a temporary elevator used during the construction of large or tall structures. A hoist is a device that raises and lowers loads.
Cranes are used for lifting equipment that may transport weights or materials upwards, downwards, sideways, or diagonally. Infrastructure, production, and automotive sectors all use cranes. A mobile crane is one of typical crane.
What are crane and hoist?
Crane: A crane is a large, complicated machine that elevates, descends, and transports large, massive, or bulky cargoes. Cranes have parts that allow them to move in multiple directions.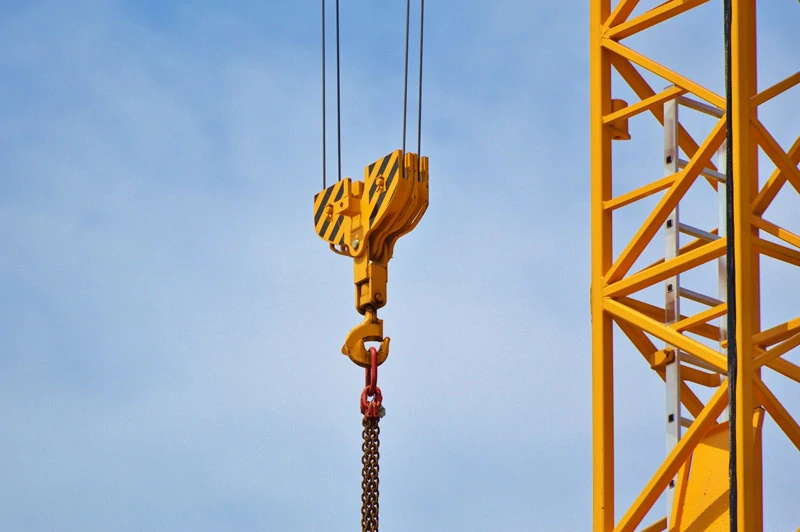 Hoist: A hoist is a machine that excels at performing a particular task: raising and lowering a cargo vertically. Hoists are mounted on the crane's main horizontal beam, known as the bridge girder. When attached to the trolley, the hoist glides back and forth over the beam of the structure. Chain hoists are ideal for lifting loads under 5 tonnes and require minimum upkeep, but wire rope hoists are the best choice for 5 tonnes and uploads. Single-reeved hoists employ a single piece of rope on the rope drum, whereas double-reeved hoists use two ropes on a single drum to give real structural support.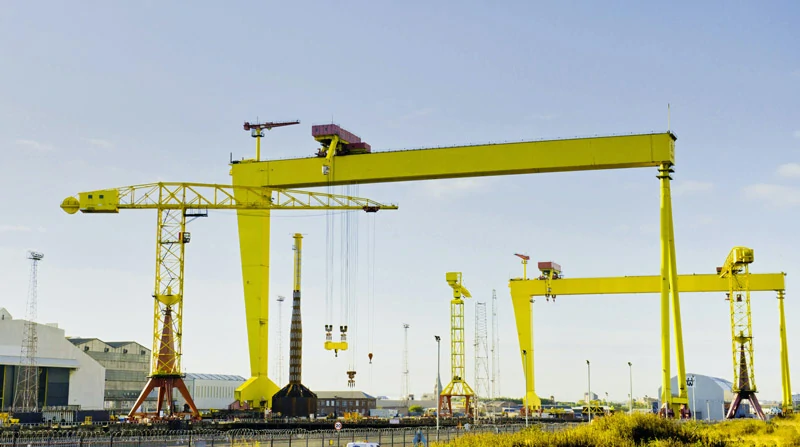 What is the working principle of crane and hoist?
The principle of crane and hoist is using a beam with a large pulley at one end to lift heavy things or hold them up in the air.
The crane principle applies the lifting power through a wheel, called an "eccentric wheel" or "eccentroscope," which has its axis off-center relative to its mounting on the mainframe. When the wheel turns, it swings one end of its axle over an arc, typically through 180 degrees. The other end is attached to a hook (or "sling") that can then be swung out over an object and released; as the wheel turns further, this swinging end is drawn back towards itself by gravity (or by ropes) until it reaches another point where it can be again lifted.
In the construction of cranes, there are two critical things to consider:
The crane must be capable of lifting the heavy load.
The crane must be stable and not overpowered.
The lever and the pulley communicate with one another to establish the mechanical advantage. Cables, coils, threads, pulleys, and an essential dimension system are necessary components of any crane. Crane, to put it simply, demonstrates how simple gadgets can be used to gain a tactical advantage.
The hoist is a mechanical device used to lift heavy objects. A hoist consists of a heavy rope, cable, or winch with a hook at one end and some beam or lever at the other.
The principle of a hoist is that it supports the load with an endless loop that runs over one or more pulleys. The lifting force can be applied gradually to avoid sudden jerks, which could cause the object being lifted to shift out of position.
Why should you choose FU9000H for the crane and hoist?
The FU9000H has been carefully designed to have an excellent safety margin for its operators. FU9000H is a new hoist inverter developed to meet the needs of the market. It is specially designed for the characteristics and control requirements of hoisting loads with its high-performance core technology. FU9000H can be widely used in electric hoists, mine hoists, winches, translation mechanisms of gantry or bridge cranes, and other occasions.
With the FU9000H inverter as your partner, lift and carry operations can be as safe as they are accessible. The hoist-specific operation mode provides safe and reliable lifting-specific braking logic and fault protection functions and built-in functions such as torque verification, contactor control, and safe and fast braking that are crucial on the job. No matter if you're a contractor or a hobbyist, the FU9000H is the solution for you.