Do you know what exactly is solar pump inverter is and why it is essential for you? If not, then this article is for you.
The Solar Pump Inverter is an equipment that converts the direct current (DC) power generated by solar panels into alternating current (AC) power. The solar pump inverter adjust the real-time output frequency based on the intensity of the sunshine to achieve maximum power point tracking (MPPT) and maximize the usage of solar energy.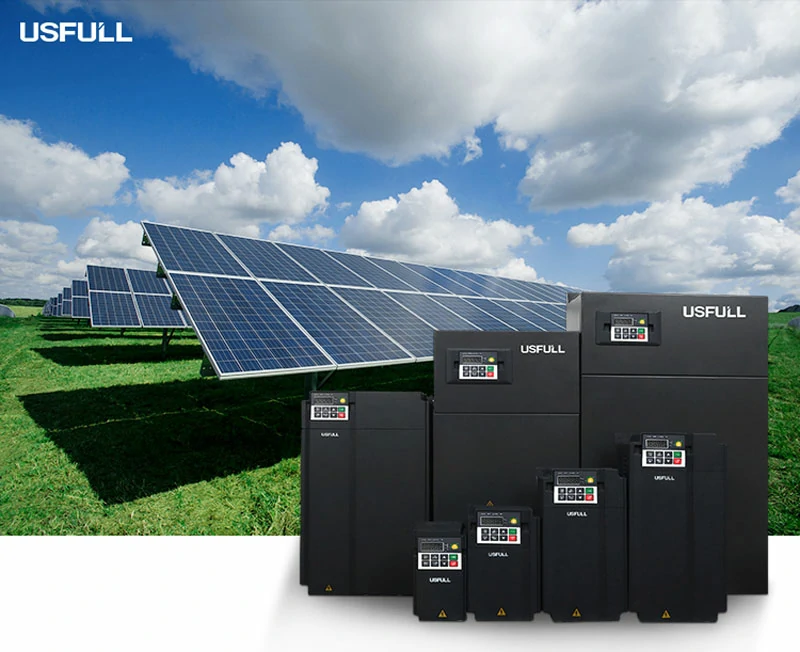 The system includes a solar panel for collecting solar energy, a water pump, and an inverter for the water pump. In essence, the system utilizes cutting-edge technological technology to gather solar energy from the sun and convert it to alternating current (AC) electricity. In order to move water from one location to another, the solar water pump relies on electric energy. If you live in an area with little space for solar panel installation, a single-phase solar pump inverter with a limited solar pump capacity is recommended.
USFULL solar water pump inverter is the system's fundamental component, albeit accounting for just a tiny fraction of the total expense of the solar pump system. You can utilize the oil engine backup power supply mode to operate the system to pump water if there is inadequate light or rain. It can also be connected to a mains or battery backup power source. The frequency conversion system is used to control the photovoltaic pump inverter motor.
The output frequency increases as the light intensity increases, and the matching pump motor speed becomes significantly more robust. There is no need to create or invest in a battery interface. Photovoltaic pumping inverters are, without a doubt, the most acceptable option for water reservoirs. Water pumping systems powered by photovoltaic panels are becoming increasingly popular as an alternative to traditional methods for solving water shortages in rural regions. These are commonly used for small towns and villages. Due to their vast power requirement, they are generally restricted to short-run or on-demand setups only.
Importance of Solar Pump Inverter:
The importance of a solar pump inverter cannot be over-emphasized. What is very important about it is that it is a highly efficient and fast energy generator. Solar pumps are widely used nowadays. The required power from solar is much higher than the available grid power in many locations. Therefore, a solar pump inverter is crucial to operating a solar irrigation system successfully. Not just the farmers but all kinds of businesses can use it in large scale industrial manufacturing units, where the availability of solar power is minimum.
The solar pump inverter makes use of the DC power, which is directly fed by the solar power. As per the standards, A solar pump controller helps pump water from the solar panel, which converts DC to AC and provides water to the user. The water pumps are either used in large hydropower plants for irrigation, mining, industry, desalination or in the domestic market for domestic use. Also, there are various domestic uses of solar water pump which includes domestic wastewater and rainwater harvesting.
Whatever the purpose, it is essential to use solar pumps with an inverter because they save electricity and give efficiency in transferring water from one place to another. Your home or business will also be helping to protect the environment by using clean energy instead of fossil fuels. A lot of people don't realize that solar power actually helps in providing relief to those affected by natural disasters like hurricanes.
In terms of energy, the solar pump system is much better than the conventional pumps and water pumps that use traditional DC power. For this reason, it is a very cost-effective way to save energy and power in the water pumping industry. Research on this subject was reported by T. Haller in "Modern Pump Motors". Here he suggested the performance of the solar pump drive and explained why it is an economical technology to save energy. He said that the DC power consumption of a pump is roughly around 0.3W. If the pump needs less than 4 hours at 24V and its frequency is 20kHz, you will be able to cut the energy consumption by 96% when using solar energy instead of conventional power.
Benefits of USFULL Solar Pump Inverter:
A solar pump inverter also called a solar VFD, is an integral part of a solar power system. Solar power is an attractive option because it does not pollute like traditional forms of energy. It also comes with a range of benefits for any consumer who is looking to save money in the long term. Solar pump inverters eliminate the need to use AC generators and costly batteries for water pumping.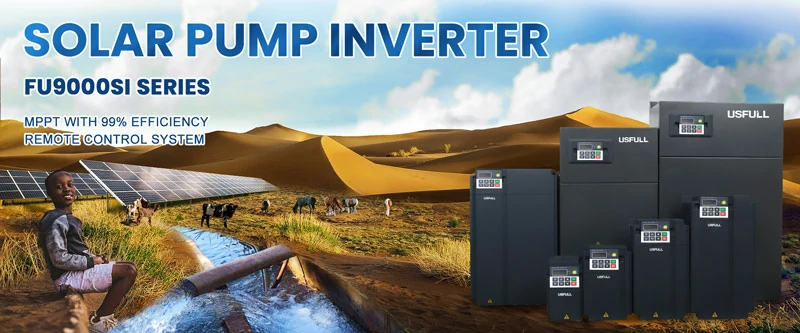 There are many benefits of solar pump inverters. Some of them include:
Solar panels can be hooked up to a pump directly in order to provide water when needed. This means that you do not need electricity to get water pumped out of your well or pond for household use.
When compared to other types of water pumps (such as those powered by diesel or propane), solar water pumps emit less harmful emissions and save time and fuel.
To make things easier, it's equipped with a hybrid solar water pump controller, which is also referred to as a hybrid solar pump controller. It's a must-have if you're installing the water pumping equipment in a remote, off-grid area. The controller is more than just a switch that turns things on and off.
The solar pump system is made up of several interchangeable parts. They are replaceable and upgradeable based on their requirements. More solar panels can be installed if the weather is cloudy, the light is low, or the quality standards are higher. Batteries and additional panels can be added if more water is required daily. If a more significant volume is needed, a higher-power version with a higher flow rate can be substituted.
The real benefit of a solar water pump is that it runs entirely on sunlight. Because a solar water pump reduces reliance on power or diesel, there are no ongoing electricity or fuel costs after it is installed.
While solar VFD used to be pricey in the past, technological advancements have made them accessible to the general public. Solar cells and panels are now much cheaper, and solar cell production has progressed to a point where they are relatively economical.
Why Choose USFULL?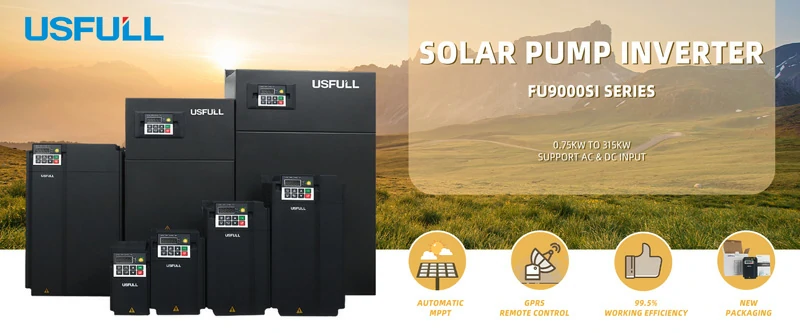 Before environmental testing, USFULL solar pump inverters proved that they are 99.3% more efficient.
USFULL solar pump inverters are fully automatic, and there is no need for any setup required after installation.
USFULL solar pump inverters have low start voltage, and a wide input voltage range broadens more options for accepting multiple PV strings and different types of PV modules.
USFULL solar pump inverters have high-speed fans and have the ability to work in a high-temperature environment.
We offer an optional waterproof and dustproof solution.
MPPT (maximum power point tracking) with quick response time and steady functioning.
To protect the system, a USFULL solar pump inverter has a number of internal protections (over current, short circuit, lightning, voltage unbalance, power quality issues…, etc.).
In terms of design and installation, USFULL solar pump inverters are convenient and straightforward.
1/3 phase induction motors are compatible.
Welcome to contact us for more details!